Dry Mix Mortar Plant:
Anjali ventures Ltd., well-known brand as manufacturer, exporter and supplier of plant and machinery in building material equipments. We provide AAC Block Production Line, Dry Mix Mortar Plant and other brick manufacturing machineries.
We manufacture Dry mix Mortar Plant under advance manufacturing facility by team of experts with precise quality observation, that help us to provide best equipment to our customers.
Dry Mix Mortar is used as jointing material for blocks and bricks. It is also known as AAC Block Mortar, Dry Mortar, Pre-Mixed Mortar, AAC Adhesive. Our Dry Mix Mortar Plant is designed with high graded mixer technology which helps in perfect mixing of materials. Digital packing system of finished material helps in packing of material in different sizes with less timing.
With help of Dry Mix Mortar plant, there are many more product that can be produced. Such as Tiles adhesive, wall putty, gypsum plaster, wall adhesive, etc.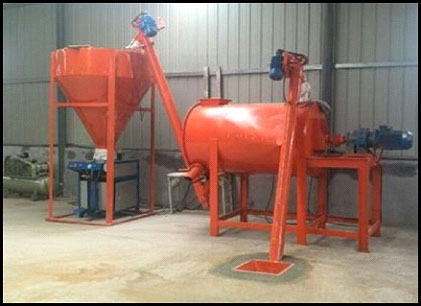 Function: First material will be conveyed through feeder to mixing division. Then material will be mixed precisely and transferred to storage division. After that material will be packed through automated packing machine. It is continuous production line.
Features: Simple manufacturing setup with lowest investment. Small area requirement and simple operation system.
Advantages: Low manpower required for production. Easy and economic production with superior quality output. We can get various range of products from single production line. Maintenance free manufacturing set up with dust free production.
Raw Materials:
Cementing Materials: Lime, Cement, Plaster
Aggregates: Dolomite, Limestone, Yellow Sand, Quartz Sand, etc.
Minerals: Industrial Slag, Fly Ash, Pozzolana, Fine Silica Powder, Industrial by products.
Water: Thickening Material.
Capacities of Plant:
Simple Dry Mix Mortar Plant: 1-2 TPH, 2-4 TPH, 5-6 TPH, 6-8 tph


Automatic Dry Mix Mortar Plant: 10-15 tph, 15-20 tph, 25-30 tph, 40-50 tph